Testimonials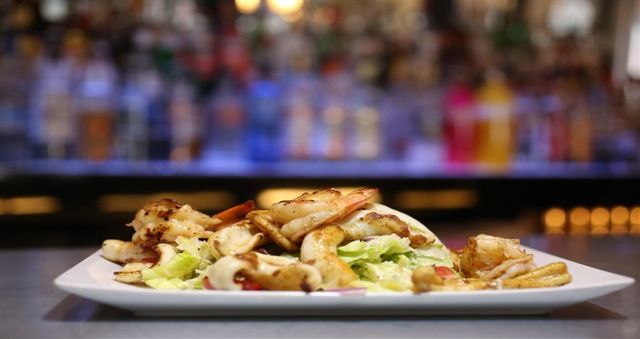 Tina Snadowsky Crisci
Wow, what a great dinning experience. From the food, to the service, simply outstanding. We had the grilled shrimp, with bean salad & the grilled calamari apetizers. Not only were they absolutely delicious, but the portions were quite large. Honestly, they could have been main courses. I had the free range chicken, with the cherry peppers, sausage & potatoes. The presentation was beautiful & the flavor was incredible. Had to bring most of it home, because the appetizers were so large. My husband had the grilled salmon, over sautéed vegetables. It looked great & he said it was excellent. And our waiter, Raphael, was wonderful. Can't wait to go back again.

New York Times
"downright brilliant" 808 Bistro, a lovely sophisticated dining room that is simple enough to function for families,yet striking enough to attract adults.Quinoa salad "brilliant" Nana's Gnocchi "wonderful little dumplings" and the preparation of the strip steak as "expert" Worth It- came less then 2 months after opening.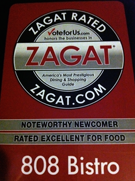 Zagat
This "cute little bistro", a "hip" "new addition" to Downtown Scarsdale, has won instant "popularity" for its "creative" American-Italian plates, "warm service" and "congenial"…surroundings…the bills are "nice" for this pricey town.
Michele D.
I walk pass The 808 Bistro daily and tonight I decided to try it for dinner with a friend. Saturday night, your best bet is to make a reservation! We walked in and were asked if we had a reservation, no we didn't but it wasn't long before the hostess sat us. Either way it's a very comfortable, stylish atmosphere with a delightful and friendly staff. Place got a little loud as every table was taken and this restaurant definitely sees a full house on a Saturday night!
The place is gorgeous! Decor is trendy and has a great NYCesque vibe (with prices to match). I also noticed this place has a very attractive staff from waiters to busboys. The menu is awesome, so many great choices that I'm sure to return to try them all. Expect to pay minimally $17 for a dinner entree. I chose the rigatoni with sweet sausage which was fantastic! Friend chose the chicken parm. There are creative dishes on the menu as well as traditional Italian. Portions are hearty (not family style) and I walked away very satisfied.
808 Bistro is pretty trendy and stylish, I would advise dressing up. You don't have to go nuts and yeah there were people in jeans (including myself and friend) and honestly I felt a tad outta place in such clothing. On the other hand I thought for a moment I was at the Housewives of Scarsdale audition as some people went a little over the top in their attire. Crowd tonight was a nice mix. I think 808 Bistro is a great restaurant to enjoy a pleasant evening with a few friends for a nice dinner! It's very cool to have a restaurant like this in my neighborhood, I'll be back!
Nicholas Anderson
Eaten in you name it – London, Paris, Rome, Amsterdam, Hong Kong, Tokyo, Los Angeles – and now -Scarsdale-! It's up there with the very best. I really mean it. New Yorkers should get out of the city and see what's on they're missing on the fringes…well worth it and excellent value!
Justin
I have been eating Sal's cooking for years and have yet to have a bad meal. You can just tell how much he loves to cook because it shows in his work!
Sharon S.
This place is beautiful, cozy, and yummy! I've been there 3 times in a 1 month time span and that is rare for me. The gorgonzola garlic bread is amaaaazing. I've tried entrees from fish to steak to short ribs and they are all delicious. Even their arugula salad is packed with perfect ingredients to add texture to go along with the perfect amount of acidity. Great wine list by the glass and first-class service.
Even though this place is thought to be not kid-friendly, they made my 10 year old daughter feel very comfortable. She is coming back with me very very soon!
Here's a tip- make reservationssoon in advance otherwise try your luck and eat at the bar. The bar is small but very welcoming.
Robert
I would say a lot of people have been waiting a long time to see Sal open up his own restaurant. The time is here and it was well worth the wait!
Meagan N.
First off, I can't begin to express my thanks to the entire staff and the owner Sal Cucullo at the 808 Bistro.
We had our wedding here on Friday February 24th and it was PHENOMENAL!!!! They paid attention to every little detail, the food was INCREDIBLE. Any concern we had was taken care of immediately. The staff was so extremely attentive to each and every guest. I couldn't be happier. If you are thinking about having a small wedding look no further. By far the best Italian food in Scarsdale.
Thank you for making our wedding day a memorable one, the guests cannot stop raving about how fantastic the salmon balls were, the veggie wontons, the pasta…I can go on and on!! We will always come back!!! Thanks Again!!